For Easter, my task was to make ice cream (using my mom's new ice cream maker). What sounded most interesting to me was to make cookie dough flavor! :) I ended up making vanilla ice cream with bits of cookie dough mixed in.
This recipe is based on one I found at www.allrecipes.com, and what makes it unique is that it has no egg in it- so it's perfectly safe & edible while raw! Perfect for mixing in ice cream, or just eating out of the freezer! (I don't recommend baking this though- its texture wouldn't turn out right)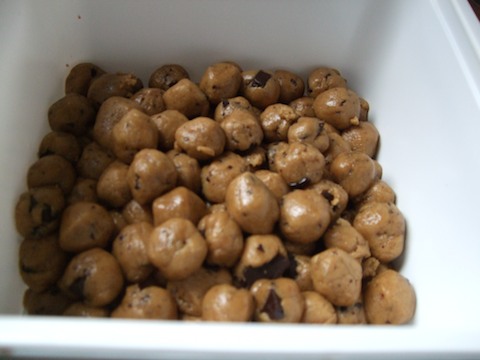 I didn't take a picture of mine, but this is what it looked like before adding to the ice cream.
Cookie Dough
Printable version here
1/4 cup and 2 tbsp. brown sugar
1/4 cup white sugar
1/4 cup butter, softened (or even a little melted)
1 tsp. vanilla
3 tbsp. milk
1/2 tsp. salt
Pinch of baking soda
1/2 cup mini chocolate chips
1 cup flour
Mix all ingredients together in a medium bowl. Start with the wet ingredients, end with the flour. Store in the refrigerator, or in the freezer for longer storage.
Why I love it?
Cookie dough you can eat raw, without feeling guilty. Enough said! ;) It's delicious and easy.