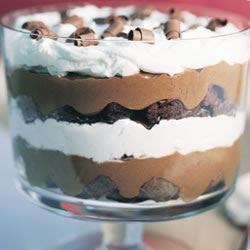 This is one of my ABSOLUTE favorite desserts to make, especially for a crowd. I've made several variations of it, too. You cannot go wrong with this!
Chocolate Trifle

Printable version here
1 (19.8 oz.) package brownie mix (plus ingredients listed on the box), or homemade brownies baked in a 9x13 pan
1 small package instant chocolate pudding mix
1/2 cup water
1 (14 oz.) can sweetened condensed milk
16 oz. container Cool Whip, thawed*
Grated chocolate for garnish, optional
1. Prepare brownie mix according to package directions and cool completely. Cut into 1 inch squares.
2. In a large bowl, combine sweetened condensed milk and 1/2 cup water, then stir in pudding mix. Mix until smooth, then fold in half the container of Cool Whip until no streaks remain.
3. In a trifle bowl or glass serving dish, place half of the brownies, half of the pudding mixture and half of the remaining Cool Whip. Repeat layers. Shave chocolate onto the top layer for garnish, if desired. Refrigerate 8 hours before serving. Serves 12.
Recipe Source:
http://allrecipes.com/Recipe/Chocolate-Trifle/Detail.aspx
* The original recipe calls for 20 ounces of Cool Whip, but I have found one 16 ounce carton to be enough.
Why I love it?
It's easy to make, it can be made beforehand, it easily serves a lot of people, it looks impressive, and it tastes fantastic!! Plus, if there are any leftovers, they taste good for several days. If they last that long ;) I make it in my Pampered Chef trifle bowl, and that fits perfectly.